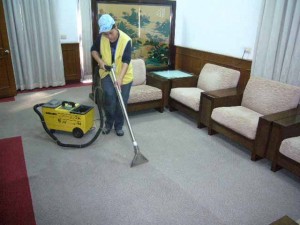 If your carpets have become worn-out, lost the brightness of their colours or need professional cleaning, you can rely on our staff to restore them. Our staff carry out hoovering, stain and odour spraying, hot water extraction, shampooing and refreshing.
They use powerful and effective machines, sprays and cleaning products which ensure effective and in depth sanitising. Our carpet cleaning services can be used in London by owners of domestic and business estates and tenants. They guarantee refreshed, rid of the stains, odours, allergens and grime soft floor coverings.
You can ensure the longer lifespan of your floor coverings by using professional cleaning services at least twice in the year. Our company offers highly professional and inexpensive carpet cleaning services which can be used by the owners of residential and business estates, located in London and nearby.
Professional Carpet Cleaning Technicians
Our cleaning technicians provide hoovering of the whole carpet area, spraying and applying of effective preparations on stains and dirty patches. They carry out hot water extraction which ensures in depth disinfection of the fabric. Then, our cleaners shampoo and refresh the carpet which is left dry and ready to be used.
Do you have stains, dirty patches or odours from smoke or pets on your carpets? If you need professional cleaning to restore the good condition of your dirty carpets, give us a call. The cleaners who work in our company are supplied with powerful and effective machines, detergents and preparations which guarantee removal of stubborn stains, darkening and odours.
Our staff provide deep and qualitative sanitising of natural and synthetic fabrics which is safe for the floor coverings. Take advantage of the carpet cleaning services we offer within London and you will receive effective and professional work.
One-off or regular carpet cleaning services
If you need one-off implemented sanitising and refreshing of the carpets in your home, rented property, flat or commercial property, use our services. The work of our cleaners is implemented with the help of powerful and advanced machines and effective preparations. They check the condition and type of the materials from which the carpets are made and apply the most effective preparations to clean them.
Our methods for sanitisation include spraying stains and darkened areas, hoovering, steam cleaning and deodorising. Contact us to reserve the carpet cleaning you need in London and we will do the work at a convenient to both sides time.