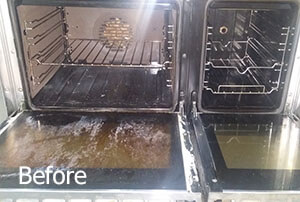 To keep the safe and well maintained condition of your oven you can use our professional services. We are reputable company, based in Forest Gate, E7 that offers excellent oven cleaning at affordable prices.
If your oven had become filled with stains, grease and its glass is too murky, get in touch with us to book its cleaning. We have sanitised many different oven models and brands and are aware of the ins and outs of the work.
Book an appointment with our cleaning technicians to inspect your oven and prepare you a quote.
Highly Efficient Oven Cleaning Services in Forest Gate
You can rely on our cleaning technicians to:
Scrub and polish the interior and exterior of the appliance
Dismantle and soak the removable oven components in cleaning solution
Sanitise hobs, grills, extractor hoods, oven doors and glasses
Ensure professional cleaning of built-in, electric, gas, microwave and other oven types
Replace the broken components of the cooker with new ones, whenever it is necessary and required by the customer
The chefs in our restaurant never have enough time to clean the ovens and when they do it the results aren't very successful. After using your oven cleaning services last week the electric and gas cooking appliances were perfectly sanitised and look better than ever. We are impressed and will be using your cleaning services regularly. – Hollie
Before starting the cleaning process, our staff inspect the appliance to check its condition and type.
Then, they dismantle the racks, panels, pan components, trays and other parts to clean them separately in the dip tanks, mounted in their vans. The grease, carbon deposits, stains and dirt will be extracted and cleaned from the removable oven parts.
Oven Cleaning Services
Price
Single Oven

£

45

Double Oven

from £

63

Microwave

£

20

Hobs/Extractor

£

23
Oven Cleaning from Top to Bottom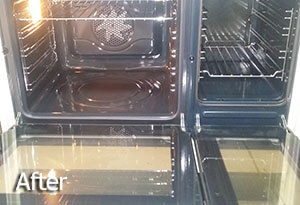 Our technicians sanitise the body, hobs, door and interior of the cooking appliances manually using effective cleaning solutions. They take out the oven door and its glass panels to scrub and polish them, whenever this is possible.
Order the oven cleaning which you need using our services that we provide in and near Forest Gate, E7 at reasonable rates. You will have perfectly hygienic and impeccable cookers that will serve you long time and work properly.
After rinsing, drying and placing all dismantled parts back on their places, our technicians will test the oven to check if it works properly. We guarantee you that you will have spotless and flawless cooking appliances, if you use our oven cleaning services, available in Forest Gate, E7 from Monday to Sunday.
"Thank you for the great job this morning. Now the oven looks like brand new and we couldn't be happier. Your representative was very polite and didn't mind answering our questions while working. We won't hesitate to hire this fellow again, he made a magnificent performance. – Carol"
"Our oven lost ability to function property and because of this we decided first to give your company a try and then to buy a new oven. It turned out that the grease prevented it from working properly. Thanks to your cleaners and your oven cleaning, now our old oven is like brand new.- Maggie"
If you are looking for a reliable and reputable cleaning company to give you a hand with the tiresome and nasty oven cleaning, do not hesitate to make us your choice. We have been in this cleaning field for plenty of years already and we know how to deliver the most outstanding end results with an ease.
There is no more need to spend the little time you have scrubbing and polishing the kitchen appliance. We collaborate with savvy cleaners who are willing to do all the cleaning for you. We can be booked from anywhere in the area of Forest Gate.