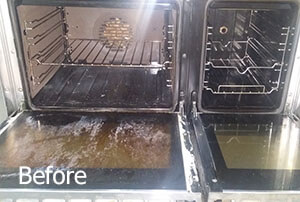 When it comes to professional oven cleaning here in Walworth, SE17, the people know to turn to us, because we are the best at providing oven cleaning services. Many people from the area have tested us and have remained our loyal clients ever since.
Because our main goal is 100% customer satisfaction. And the highest percent of satisfaction can be achieved only through hard work, determination and giving 100% of yourself. Which we understand perfectly and is what we give to our customers.
Because we are highly concerned with what is best for our clients we have come up with the decision to only use cleaning products and solutions, such as abrasives, degreasers, soap, etc, that are biodegradable, toxic-free and non-caustic.
Efficient and Eco-Friendly Oven Cleaning in Walworth
We have the best modern specialized equipment to help turn your oven into a brand new looking one after only one cleaning.
Our company offers you:
The best professionals you can find in the Walworth, SE17 area
The best specialized equipment and cleaning products
Our teams are at your disposal every week and weekend day
Punctual and certified staff
Very competitive prices
The equipment and cleaning products are included in our prices
I can't believe… You cleaned every stain, dirt and grease from my stove and now I can enjoy its shine again. I must admit that I can't achieve this great results by myself. More important is that you used biological cleaning products and assured me that these are absolutely safe for the health. Thank you very very much! – Charlie
Our teams of professionals are trained and skilled at taking care of all kinds of dirt and grease in all kinds of different ovens.
Because we know that all ovens are different and have different needs. Our highly-qualified cleaners can help no matter what the oven is and how much dirt there is.
Oven Cleaning Services
Price
Single Oven

£

45

Double Oven

from £

63

Microwave

£

20

Hobs/Extractor

£

23
Cooker Cleaning Services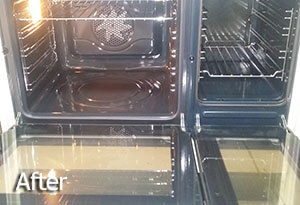 The procedure itself is very simple, our cleaners will take out all the removable parts and clean them separately. Then they are going to take care of the oven itself, cleaning its inside, top, sides and door, and burner covers.
After everything has been cleaned properly and dried, they will reassemble the oven and it will be ready to use immediately.
Pick up the phone and call us for an appointment now! Do not postpone cleaning your oven any longer, it needs to be taken care of by professionals. We guarantee 100% effectiveness!
"I will rely on your oven cleaning services again, because they managed to meet my expectations to the fullest. You have employees, which are real experts in the cleaning sphere and who did their best to make me fully satisfied with the job done." – Brittany
"You gave me exactly the results I wanted to get and I was sure that I can count on you! You didn't let me down and managed to make my oven spotless clean in no time. Thank you for the help and be sure that I will get in touch with you again when my oven needs cleaning." – Josh
If you think that cooking is much more fun than wasting time and energy for the oven cleaning, we don't blame you. We believe that only a true professional can handle the tough grease stains and carbon in a quick manner and this is why we encourage you to give our oven cleaning service a try.
We are happy that so many customers have decided to trust us and hired our help. We assure you that you, too, can enjoy a spick-and-span look for your appliance if you book our service. We provide our help across entire Walworth, seven days a week.