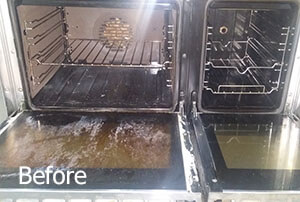 We are a professional cleaning company that specialised in oven cleaning all around Whitechapel, Shadwell, E1. We provide quality and accurateness and we guarantee about the shining results. Your oven will return its initial brilliance thanks to our capable and hard-working cleaning techs.
We know that cleaning of the oven maybe tricky task, because of its fragile surface, that's why we use the most advanced tools and gentle detergents. These will eliminate all the grime and dirt, but will spare the surface, without leaving even a scratch.
Contact our representatives and ask them for the low-priced offer, which it would be a shame if you don't benefit of. We are flexible in every aspect, since we are familiar with the busy schedule of our customers.
Brilliant oven cleaning services in Whitechapel, Shadwell
We realise that the cleaning of the oven can be a nightmare for most of the housewives and that's why we are here to provide you with our one-of-a-kind services, which include:
Experienced and trustworthy provider
Thorough cleaning of the oven
Removal of all dried stains and leftovers
Non-chemical detergents
Sophisticated cleaning equipment
Diligent and knowledgeable cleaning staff
Guaranteed satisfaction
Sensible rates
Easily-available working hours
We needed help with the sanitising of the oven in our rented flat before vacating it. Thankfully we found this company and scheduled the oven cleaning. The worker sanitised the oven and our landlord was pleased with the results. We succeeded to move out in time and receive our deposits back. – Samantha
With our services, which we deliver in Whitechapel, Shadwell, E1, you may proudly say "hello" to your shining clean, which will scream your name to cook with it.
Oven Cleaning Services
Price
Single Oven

£

45

Double Oven

from £

63

Microwave

£

20

Hobs/Extractor

£

23
Excellent oven cleaning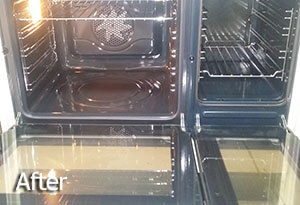 Cleaning the oven is the domestic chore, which nobody wants to deal with. Moreover, the products on the market are usually useless against the layered grime and these are usually chemical-based. Why don't you just ensure one top-notch cleaning and save your money about useless detergents? We will provide everything necessary, only of the best quality. Our professional cleaning techs are aware of the risk of using chemicals in your oven, that's why we always go for green cleaning.
We will clean your oven to a standard, which you haven't seen it since you firstly bought it. We take pride in our policy of making sure that every customer is 100% satisfied. We promise you won't find better price or quality than ours all around Whitechapel, Shadwell, E1. Grab the phone and book our 24/7 oven cleaning services now!
"There are many reasons why I like your oven cleaning service. But the one thing I am most impressed by is their professionalism and social skills. They were very kind and diligent, I really enjoyed having them around, plus my oven is now cleaner than it has ever been. – Jake"
Our company has helped hundreds of customers from all over the Whitechapel. With a personal attention towards each and every customer, we can guarantee the highest levels of cleanliness and a hundred percent client satisfaction.
For the peace of your mind, our deep oven cleaning includes cleaning of all the parts and zones of the kitchen appliance. Once our cleaners inspect the condition of the oven, they will remove all the components and clean them separately. The oven will be cleaned from inside and outside, and when the components dry completely, they will be put together again.
"And to think I wasted all that time trying to clean my oven by myself! If I knew you were such a diligent cleaning service I would have started employing your service years ago. Thank you for making my oven cleaner- the cleaning also improved its performance, which I find incredible! – Rory"
"I have always wondered what makes a professional cleaning service so special and now I finally know the answer. The cleaners you sent to handle the oven cleaning a few weeks back made a really good impression on me. The way they were cleaning it on the inside, using methods I never knew of, was simply rewarding. – Charles"